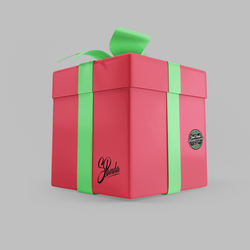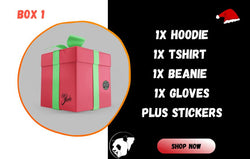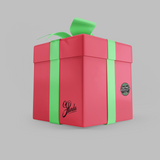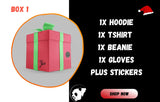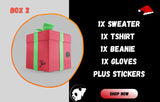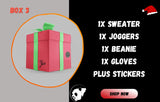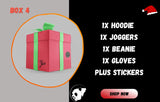 The perfect gift from Street Panda Clothing this Winter, each box includes a variety of items highlighted below.
Free delivery within the UK
Box 1

RRP £112

Box 2

RRP £101

 Box 3

RRP £116

Box 4 

RRP £126

Hoodie


✔️






✔️

Joggers





✔️

✔️

Sweater



✔️
✔️
T-shirt

✔️

✔️

Jersey Beanie

✔️




✔️

Bobble Beanie 

✔️

✔️

Fingerless gloves

✔️

✔️

✔️

✔️

Stickers


✔️

✔️

✔️

✔️
T-shirts will be the same size, completely random, and always one-of-a-kind. Items chosen are at the sole discretion of Street Panda Clothing; items and shipping times may vary due to stock and shipping issues (each item is hand finished and packaged in a safe environment).
We will not accept returns or refunds for the mystery box unless the items are damaged and the entire box is returned with all its contents. 
When you purchase an item from our store or subscribe to our mailing list we store your contact and shipping data along with previous purchase history through Shopify and/or Mailchimp. This allows us to keep you up to date on our latest releases and deals! It also makes it easier for us to deliver your goods to you if you come back to us in the future.
Street Panda will never share your personal details with third parties (with the exception of your shipping details, which are disclosed to third party delivery companies in order to ship items you purchase as and when this is required).
For more information on how Shopify and Mailchimp manage our data please visit https://help.shopify.com/manual/your-account/GDPR and https://mailchimp.com/legal/terms/?_ga=2.125093194.174433688.1527189915-1456252741.1520020102
SHIPPING:
*** PLEASE NOTE ***

FREE UK SHIPPING ON ALL ORDERS OVER £15
FREE WORLDWIDE SHIPPING ON ORDERS OVER £55
POSTAGE TO UK TAKES APPROXIMATELY 1 - 2 BUSINESS DAYS AFTER FULFILLMENT USING ROYAL MAIL 1ST CLASS SIGNED SERVICE 
EU TAKES APPROXIMATELY 3 - 5 BUSINESS DAYS AFTER FULFILLMENT USING ROYAL MAIL FULLY TRACKED AND SIGNED SERVICE 
USA AND THE REST OF THE WORLD TAKES APPROXIMATELY 5 - 7 BUSINESS DAYS AFTER FULFILLMENT USING ROYAL MAIL FULLY
TRACKED AND SIGNED SERVICE 
(ALL SHIPPING COULD TAKE LONGER DURING BUSY PERIODS OR BAD WEATHER CONDITIONS)
RETURNS:
If you are not happy with your purchase for any reason or if your purchase is damaged on arrival, we will gladly accept your return within 60 days. Returns must be unworn, in the state you received them, and in the original packaging.
Email us at: info@streetpandaclothing.com with your name and details of which product you purchased and why you would like a swap or refund.
Return postage will be paid by the customer and should be addressed to:
Street Panda Clothing
7 Heron View
Hartsholme
Lincoln
UK
LN6 0JY